Zadar – about the city
Welcome to the city 3000 years old and valuable cultural heritage. Zadar will always offer you something new and original something that you never saw ever before. Zadar is the most popular tourist destination in middle Dalmatia, even London Times named Zadar as the entertainment center on the Adriatic.
Zadar in the middle of the Adriatic sea is easily accessible by car, boat and a plane. It is connected with new highway with Croatian capital Zagreb, largest city in Dalmatia Split, center od the Kvarner Rijeka and most recognized tourist destinations in the Mediterranean, Dubrovnik.
Turbulent history of destruction and creation left a lot of scars but also many records about that history and valuable cultural heritage of the city as is today. Zadar is historic in every way, in every little street, it will amaze you to explore ancient history like St. Donat church, the symbol of the city built in 9th century and Sv. Stosija that largest church in Dalmatia.
Famous director Alfred Hitchcock long ago in 1964 described sunset in Zadar as the most beautiful thing in the world and even better than the one in Key West, Florida. So if you want to experience example the same thing as Mr. Hitchcock visit our city Zadar.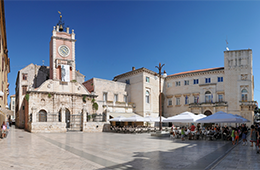 You need to do in the city centre:
Sea Organ (in the old city international sea port, scales into the sea that are making noise when there are waives just like real organs)
The Greeting to the Sun (next to the sea organ)
The Forum (3 minutes' walk from the sea organ in the middle of the city near Sv. Donatus cathedral built in 1 century BC)
People Square (a large square in the middle of the Zadar connecting by Kalelarga to the Forum) - on the right picture
Five wells square (located near the Fosa and the city walls on the South of the old city)
Fosa (completely on the south of the old city, just walk trough the Kalelarga and you will end here in few minutes)
Kalelarga (the most famous street through the middle of the old city connecting all this various historical places, history says older than city)
Zadar Barkajoli (rowers of Zadar tradition older than 800. years, as for Venice gondoliers those )
Zadar spinhx is the biggest in Europe. It is very special because it was built in memory of beloved woman therefore romantic legend said that it grants love wishes, near the 5 wells.
Undoubtedly the most popular portion of the city, the Old Town has everything you want; excellent restaurants, trendy bars, a variety of shops and of course interesting historic buildings, Roman ruins and Romanesque churches. It doesn't end there though – museums and beaches means there's something for everyone to enjoy and the famous Sea Organ is not to missed.

Spend some time exploring the streets of Zadar's Old Town and you will soon be under its charming spell.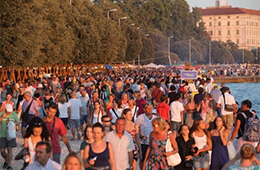 Zadar Festivals
Full Moon Festival - During this festival (held on the night of the full moon in August), Zadar's quays are lit with torches and candles, stalls sell local delicacies and boats lining the quays become floating fish markets.
Musical Evenings - Classical music performances featuring prominent artists from across the globe are held in the Church of St Donat and other Zadar venues throughout the year.
Choral Festival - Choral events featuring some of Europe's best choirs are held in Zadar churches in October.
Zadar Dreams - A theatrical festival that takes over Zadar's parks and squares in early August with contemporary theatre, dance, music and art.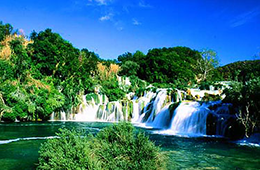 Surrounding national parks
Plitvice Lakes National Park - Not just one of Croatia's but perhaps one of Europe's most popular attractions, Plitvice Lakes National Park has to be seen to be believed. Stunningly clear azure waters are the focus as they tumble down waterfalls which connect a series of 16 lakes throughout the park. It is a joy to visit and a trip here will no doubt result in many photographs.
National park Krka - Krka is another must do for nature lovers. The difference here is that although it is a National Park, you are allowed to swim here which makes your visit even more enjoyable. Visit the waterfall Skradinski Buk! Take a ride by the boat.
Kornati Island National Park - Croatia is well known for the many beautiful islands which litter the Adriatic coast and the Kornati Islands are no exception to the rule. Because of uniqueness and rich marine ecosystem 1980 it was proclaimed a national park.
Paklenica National Park - National park Paklenica is part of south Velebit and a heaven for hikers. For each national park there are organized tours and guides to better experience the magic of nature.
Zadar Beaches
Come and choose perfect beach for you sandy with pine, rocky, pebbly, or secret quiet and isolated. Whether you are looking for a family beach for you and your children, sandy beach or beach for entertainment and night life, for diving or anything else you will find in Zadar region. In Zadar region there are many undiscovered beaches waiting to be discovered. Beaches in Zadar region have blue flag highly respectable tourist brand.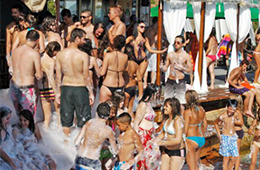 Zadar Nightlife
If you are young or young soul and want to party or just go to a bar in Zadar or nearby you´ll find night bars like Maraschino bar, Yachting bar, Lounge & Bar Ledana, Hitch bar, Q bar, Arsenal worldwide cultural heritage monument built in 18. century, has something for everyone. It is not even far to go on Novalja - Zrće if you like party till dawn or Garden festival in Tisno a very popular shik place for ppl from UK.