Zadar, Croatia: The perfect break
As per The Telegraph Zadar is the perfect getaway from various EU locations. The Croatia's Dalmatian coast full of tourists from April to October. Most of the Croatia's coast is a region rich in history and natural beauty, which is still undiscovered.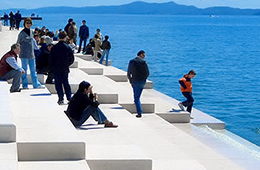 Why go to Zadar?
Zadar is ancient city older then 3000-thousand years, with rich historic cultural heritage, that will leave you speechless. Surrounded by 5 national parks you will never be bored. If you are gourmet type you ´ll be delight with tiny restaurants called tavern which serves Dalmatian specialities, for families there are sandy beaches with pine trees. Old town is soul of a city, in summer you will enjoy in festivals like full moon festival, zadar dreams, musical evenings in saint Donatus church.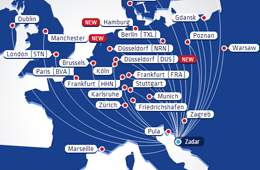 Get here by…
Plane, with Ryanair (www.ryanair.com), which flies direct into Zadar from London Stansted. Seats from £105 return. Book early. Other flights from Brussels, Oslo, Berlin, Dublin, Düsseldorf, Paris, Zurich etc.
Drive a car from all over the Europe, through the modern highway you can arrive pretty fast to the Zadar.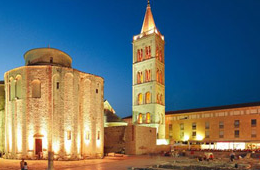 Spend the morning
In Zadar it's easy to fill your day. Come to Old town with barkajoli, for over 800 years they connecting the two ends of coast, and discover ancient Roman forum built from 1.st.century BC, than across forum is St.Donatus church symbol of the city and most famous monumental in Croatia from the middle ages built in 9.st., saint Anastasia´s cathedral is the biggest cathedral in Dalmatia.
Spend some time on sea organs and enjoy in endless concert of nature. The Greeting to the Sun play of light over night, it is so enjoying to watch play with lights.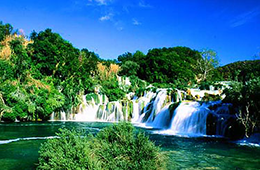 Spend the afternoon
If you want you can take boat end discover Adriatic sea and islands across zadar or by ferry go on one day excursion. There are many organized excursion to islands or national parks like Plitvice lakes. Plitvice lakes are the most beautiful national park not just in Croatia but probably in world. You must see to experience that beauty. National park Krka, although is national park you can swim here and your visit makes it more special. National park Kornati it is a group of islands exactly 89. Richness of flora & fauna makes this national park is so special.